In all the articles I have done on Mr. Gann's forecasts, the one theme that I have been most impressed with is his accurate predictions on the general trend for the year. His 1922 predictions continued his streak of correctly anticipating the overall trend. Figure 1 shows his industrial and railroad curves for the year with actual price comparisons.
He knew that the year would be a bull market, especially the first six to eight months. Originally, he felt that the end of the year would be bearish and that some severe declines would take place. He revised that portion of his forecast in two supplements issued in September and November. In the former, he correctly changed his low from September 15 to the 30. In the latter, he notified his subscribers that stocks had bottomed in late November and would not decline any further in early December like his original forecast had predicted.
Read Part 1 ,Part 2, 3 and Part 4 :
In the 1922 forecast, Gann predicted three highs for the year. One high would occur in April, with the other two in August and October. The three highs forecasted for 1922 is an example of his preoccupation with numbers, especially the number three. Whether the market was making three peaks, three sharp up days in a row or three lower lows in a trend, Gann felt that the number three had a special meaning. He anticipated a change in trend after the third time the same event occurred. This pattern of threes will occur so often that it deserves to be the subject of discussion in a future article of Technically Speaking.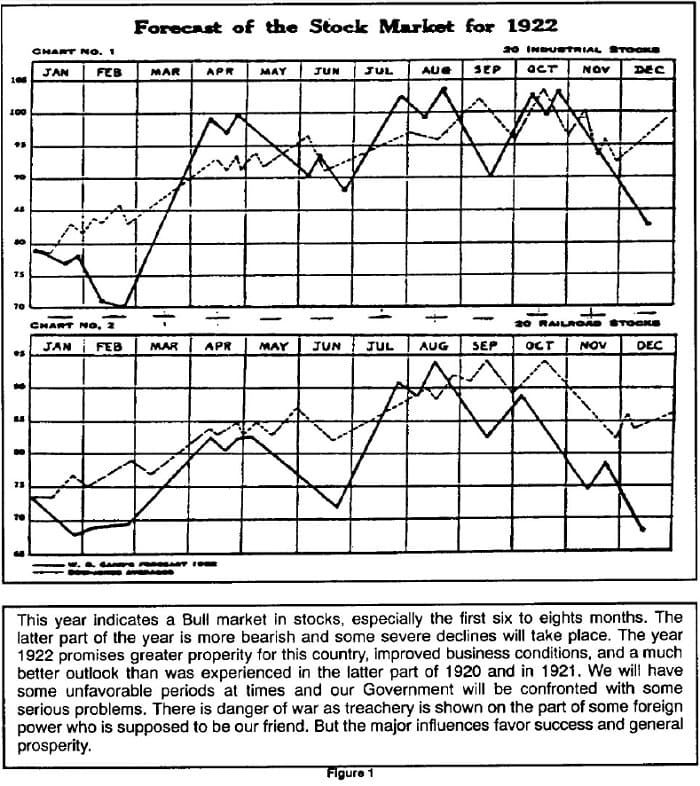 The astounding aspect of Gann's 1922 forecast was the prediction of the possible yearly high for October first to the 15 or 18 to the 24. The actual peak came in at 103.43 on October 14.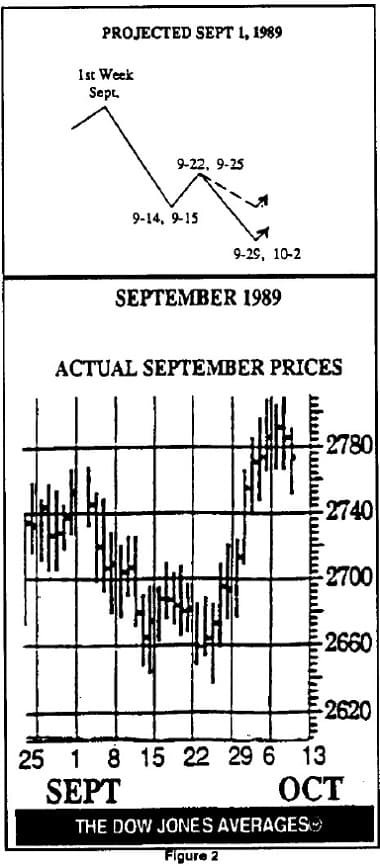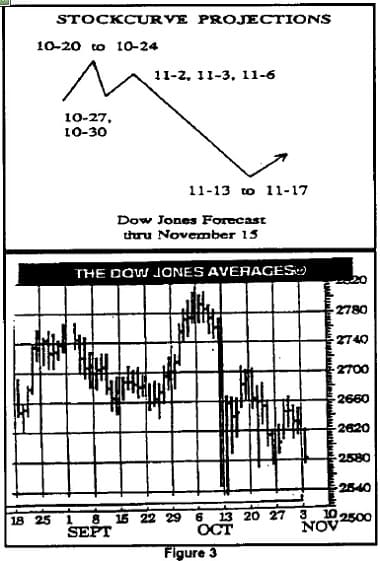 As for his monthly trends each month, you can judge for yourself whether he was correct. It seems his railroad curve was more accurate than his industrial forecast. In this year, some of the cycles just did not work out. Specifically, the late February lows, the late April tops and the mid-December lows failed to materialize. I have always said that his method was not perfect and that at times the cycles will simply not work. However, in the long run, his method is the most consistent and accurate of any available today. I say this because I know it is possible to draw a monthly curve with the correct highs and lows that will closely match stock prices most of the time.
To support this statement I have not only included a comparison of my July, August and early September forecast (written July 10 for this magazine's October – November issue), but also my September (figure 2) and late October -November (figure 3) forecast as projected in my monthly newsletter, The Timefactor. From these charts, you can see how it is possible to project future price trends and the highs and lows. During this July through mid-November time span, the only error I made was the drop into October 13 – 16. I simply made a mistake in my analysis and missed that low (it was definitely there). It would have been impossible though, for me to indicate the magnitude of that drop.
In regard to the composition of Gann's forecasts, you might be interested in knowing that the price movements to double tops or lower tops is more interpretive than objective. Let me give you an example of this in Gann's 1922 forecast of the railroad averages. He shows in his curve that the October peak will be a lower top than the August high. Actually, the October peak was a double top. He hedged this lower top prediction for October by stating in the narrative section of the forecast that, "It is possible if the rails are leading and are very strong that the October top may be nearly as high as the August top."
Now you know why my forecasts will usually only be done 30 days in advance. One gets a better feel for the internals of the market and the general mood of the market and one can more easily determine if prices will make only a small rally into projected tops or a larger rally to new highs in our top projections. As you can see, Gann hedged his projection because he did not have a black box or a crystal ball to give him all the answers. He did however, have a scientific method that worked better than what anyone else has been able to formulate. Unfortunately for the general public, he never revealed how he did it in any of his commercial bonds or courses. I suggest that for those with inquiring minds to read his 1909 interview with Wycoff. In this article, he hints at his technique in conceptual terms. When you grasp the concept, you can then begin your research that will eventually lead you to confidently make the kinds of specific forecasts shown in this article.
Balance of November
According to my cycle work, the Dow should make lows the week of November 13 – 17. The first day it closes up that week will identify the low. Stocks should rally until the 20 -22 and then make another low around November 29 or 30. Bonds are consolidating sideways to slightly up which is very bullish, because in the week of November 13 the cycles in bonds will begin to push bond prices higher.