W.D.Gann said, 'Time is the most important factor in the forecasting of market movements. Joseph Rondinone, a student of Gann's in 1954 (just a year before he died), agreed in theory with the master, but Joe could never find a reliable way to incorporate time with commodity market price movements. Gann stressed anniversary dates. Joe found them to work sometimes and not work others.
After nearly thirty-five years of trial and error, Joe discovered a reliable trading method that would fuse price relationships with time (or more accurately, space). Joe calls it The Presto Five/Four Angle Trading Method. As far as is currently known, it is a unique system of plotting and trading.

Read Article: How Day Traders Can Enhance Their Profit Potential By Jack Weiss
The basic principle behind angle plotting is this: more emphasis must he placed on wide (or big) trading range days than on small ones. All technical traders have only four values to denote each day's trading action: the open, high, low and close. Conventional chartists plot each day on a single vertical bar line. The open is usually shown with a slight hash mark on the left of the bar, the closing price with a hash mark on the right side of the bar. It matters little if the day is a big, active day or a small congestive one.
Trend lines are drawn to suit the chartist and he then decides on his trading strategy. The most frequently used trend line is the standard forty-five degree line from a significant low or down from a prominent peak. It is Joe's contention that what appears as a forty-five degree angle on a conventional bar chart is really not representative of what has happened in the market. In other words, a twenty-five cent move in beans should carry more significance than a five cent move. And it is not uncommon for such trading activity to happen side by side. Joe knew there had to be a better way to flush out Gann's price and time theory. Joe realized that it was just a matter of simple logic that four values (open, high, low and close) could not give a true picture of one day's trading activity.
So after years of experimentation, Joe developed the angle plotting method. This method gives weight to the open and the close of each day in relationship to either the high or low of that particular day, using a preset angle. Figures 1 and 2 represent the same thirteen days of trading in the September 1989 Yen contract. Figure 1 is the conventional method used by Gann. The open is indicated by a small dot and the close by an "x" on a vertical bar which is capped on either end by a left-pointed high mark. This denotes the entire day's trading range.
Figure 2 shows the same data, but in the angle plotting method. A solid line triangle encloses the trading activity from the second day forward. As the price descends it eventually fills the space toward the apex (where the forty-five degree angle and horizontal line meet). The price must either go lower, thus expanding the size of the triangle, or else trade above the forty-five degree line. As seen, the price jumps the forty-five line, immediately signaling a buy The upthrust in the market is shown enclosed within dash-lined triangle (Joe does this to simplify chart reading). The price moves into a consolidation phase and then breaks down once again and gives a sell signal.
Both Figures 1 and 2 show forty-five degree lines. In the conventional chart picture, the long side trade would be missed entirely. In all probability, the trader would have decided to go long upon the upside penetration of the downsloping forty-five line. This would have resulted in a losing trade as the market immediately went into a consolidation period of four trading days, then went lower.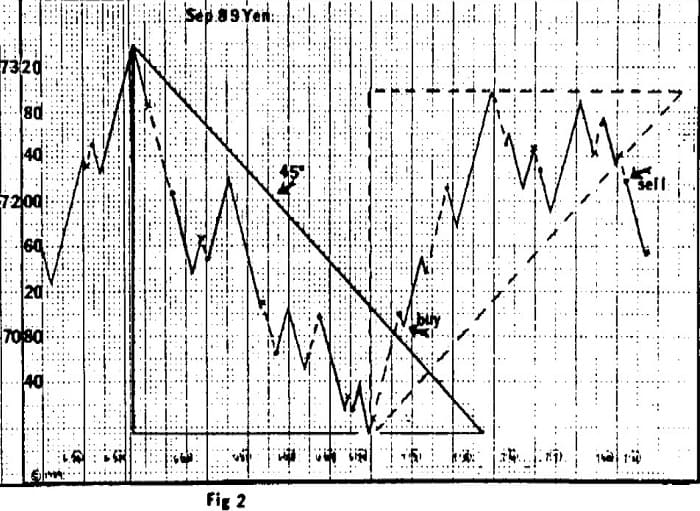 Figure 2 gives an entirely different chart picture. It shows that until there is a violation of the angle plotted forty-five degree line the trader should stay with a profitable position. The trading confidence this one principle gives the trader is invaluable for maximizing opportunities. There are seven trading principles used in the Presto Five/Four Trading Method. Each principle has evolved from several decades of research. It is evident that Joseph A. Rondinone has taken W. D. Gann's work to another level when it comes to fusing price and time. Joe believes his work will revolutionize technical analysis and conventional charting methods. After seeing Figure 2, you may agree.