In Stock Trading and Investing Course, you will  learn the same techniques Larry Williams has been using for over 25 years, stable and time tested. You will learn: Market timing system & bull market indicator, His 3 best individual stock selection techniques and His exclusive indicator of when to expect major bear markets.
This chart shows the performance back to 1988 based on my historical research of the three strategies you will learn. The red line at the bottom shows what would have happened if you invested in the Dow Jones 30, an approach that usually performs better than most mutual funds. The orange, blue, and green lines are the historical results of the three strategies I will teach you, all of which knocked the socks off the Dow. This is not a complex hard to follow strategy. It requires about 4 hours of work a year.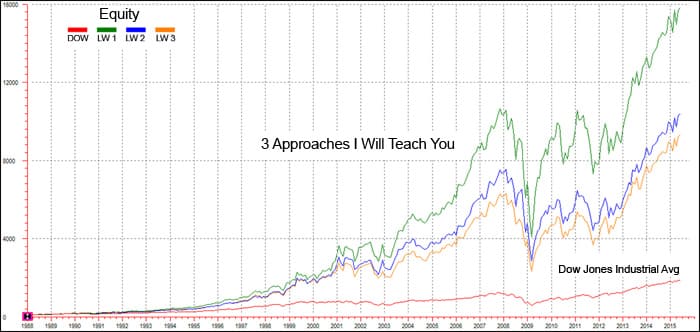 Author's Introduction:
You will learn when to invest in stocks, the best stocks to buy, and when to sell. But that's not all… You will learn how I trade stocks:
Just as in futures trading, conditions move stocks. I teach you those conditions.
You will learn what stocks are under intense – professional – accumulation and distribution. That's what sets up the explosive moves.
I will teach you market structure.
I will teach you a mechanical trading strategy with 3 simple rules.
$1,000 invested with Buffett in 1988 would now be worth $47,060. For that same time period, $1,000 invested in my easy-to-follow system would now be worth $114,475… almost 3X better than Buffett. The original bet stipulated that each side in the bet would put up $320,000 to be invested in a zero-coupon bond that after 10 years would be worth $1,000,000. They did not actually buy anything, just bet on performance… I have $1,000,000 on the line. Yes, my wife and I have over $1,000,000 of real money invested in this proven strategy. I have run simulated tests on this strategy for years. Every time it comes up a winner, giving us the confidence to plunk down real money. You may read other approaches, but they are paper trading/paper tigers. We have $1,000,000 real money doing exactly what I will teach you.
My driving goal for over half a century has been to find a very easy-to-follow stock investing "system" that ALWAYS beats the market, as well as a simple trading strategy that does the same. You can learn these exact approaches… and a whole lot more in a special seminar in Los Angeles on September 12, 2015. I will be personally teaching these strategies in Los Angeles, not a teaching assistant or protégé.
This one day event will cover more than just this one strategy. I will…
Give you an investment strategy that has made an average of +20% per year FROM 1988 TO DATE**.
Show you the stocks we are currently invested in and why, so you see real results.
How to do what we do in less than an hour a month.
Teach you the very best stocks for:
Trading
Investing
Dividends
Give you an amazing mechanical trading strategy. How good is it? I tested it on the DJIA for the last 20 years. It made money in all but 2. Average accuracy is >75% and can be used on any stock.
Show you the all-time, very best indicators to call major stock market tops and bottom.

I will show you how to sidestep bear markets, which means that 20% annual gain may go to 35%.
You will learn the best stock market buy signal I have seen in my 50+ years.
Fundamentals move markets; learn the ones that do.

Share with you my easy-to-follow trading strategy that can be applied to the stocks of your choice. This includes selecting the right stocks, knowing when they are set up to move and exactly when to buy/sell and take profits.
You will learn numerous entry and exit techniques, most you have never seen.
I will show you exactly how to use seasonal patterns in stock prices to come as close to sure thing winners as humanly possible.
As a special bonus I will give you my holiday trading strategy for the stock market as well as individual stocks. One of these easy-to-follow strategies show 38 consecutive years of winning trades… and the next trade is coming up soon.
Stock Trading and Investing Video Course By Larry Williams