Smarter Investing in Any Economy: The Definitive Guide to Relative Strength Investing will show you how relative strength strategies allow you to invest successfully in both bull and bear markets. Even in a market downturn, something is always going up. Relative strength will help you pinpoint that stock, currency, or commodity that s on its way up. Recent advances in computing capability and the widespread availability of ETFs have now opened up relative strength strategies to virtually any investor. Relative strength has been widely used for years by financial institutions; however, it was never accessible to individual investors because of complex custom programming requirements. Computing advances, coupled with new ETFs that limit risk have made relative strength a viable strategy for long-term investors and day traders alike. Carr has broken down his technique to the level that any Microsoft user can implement his strategies successfully.
Author's Note:
I'm excited to give you a "behind the scenes" look at the key behind many of my successful trading systems — my relative strength (RS) indicator. I want you to know that while Smarter Investing took about three months to write — it took about 18 years to research. It was a few decades ago, in 1990, when I first came across the idea of RS — and I immediately knew it made sense. For those unfamiliar with relative-strength trading, I'll just say now that the idea is simply to buy stocks that are going up and avoid stocks that are going down. It really is as straightforward as that.
However, in 1990, there wasn't a lot of information about RS available. Access to the indicator required an expensive subscription. To top it off, I couldn't find any formulas for RS. So I started working on my own. After a few months, I had an idea that seemed like it would work, but the formula needed to be refined. Then, in October of that year, I read that the Royal Swedish Academy of Sciences awarded the Nobel Memorial Prize in Economic Sciences to three economists who had studied the stock market. One of the economists was Dr. William Sharpe.
As I read about his research, I realized the formula I was working on was something known as "beta," one of the concepts the Nobel Prize recognized. Beta is found with a linear regression that compares the stock's price moves with the changes in the S&P 500. I cover the calculations in detail later in this book. This news didn't discourage me. It actually opened up a whole new world, which you'll read all about in this book.
That's because I now knew there was academic research that could help me discover how to beat the market. Remember, this was the early 1990s, before the internet, so progress was slow to say the least. I had to work through libraries to access academic papers and journals. It could take months to get individual papers! And sometimes I got my hands on research that didn't help me an iota. But finally, in 1999, I uncovered a paper that had been published in 1993 proving RS worked. And it provided a simple formula. From there, I found other papers, some dating back to the 1940s. But I realized there was a clear problem in all this research…
There was nothing explaining how to use RS to the average, individual investor. That's why I decided to write this book. This book was released in May 2008, as the stock market was beginning the worst bear market since the Great Depression. Test results shown in the book run through December 31, 2007, and I have to say the results shown in the book are impressive. For example, this table is the same one you will see in Part 3. All of the rules are described in the book, by the way.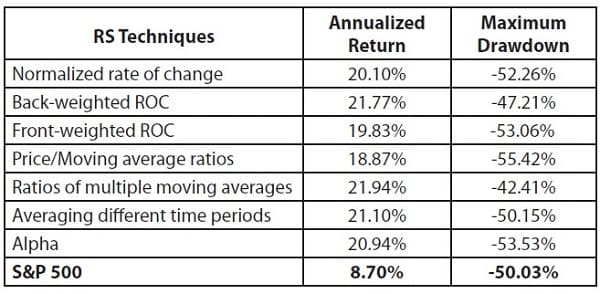 These tests use different definitions of RS, and each definition beat the market (the S&P 500), based on the annualized return. As you can see, though, the results show that an RS strategy can suffer steep losses. The Maximum Drawdown column shows the largest loss in the portfolio over the 17-year test period. Yes, the maximum drawdown is high — and this is a problem with RS. But there are ways around that problem as I explain in Part 4 of the book. Of course, these results don't include the bear market, which was already underway when the book appeared. So every reader should ask an important question before they get to the first page of the text: What happened in the bear market? I wanted to provide you with that information, so — to see if these RS strategies have worked since the 2007 publication — I ran new tests. These tests were all run the same way the original tests were run, except for the dates.
The start date is January 1, 2008, and the end date is January 15, 2018, which allowed for the longest test period while meeting this new publication deadline. Results are in the table at right. The results show that RS still works in the long run — even throughout a bear market. All of the formulas still beat the market. Of course, all of the results continued to endure large drawdowns. So risk management is central to implementing an RS strategy, and that's why I have spent years working on that.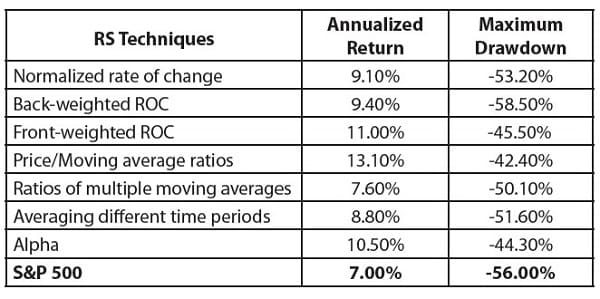 In the time since it's been published, my research has continued. It's not surprising that if I wrote this book today, it would include information I didn't know a decade ago. After all, I do use the most up-to-date research in my current work and share that research whenever possible. But the main point remains this — relative strength works, and it works well. And if you understand it, you can use it to beat the market. That's why I wanted to present this book to you. It has everything you need to get a good grasp of the strategy. I hope you enjoy it and benefit from the details you're about to learn.
Contents:
Defining Relative Strength
Calculating Relative Strength
Testing Relative Strength
Managing Your Risk
Trading Applications
Smarter Investing in Any Economy: The Definitive Guide to Relative Strength Investing By Michael J. Carr pdf